Welcome to our Enthusiast Zone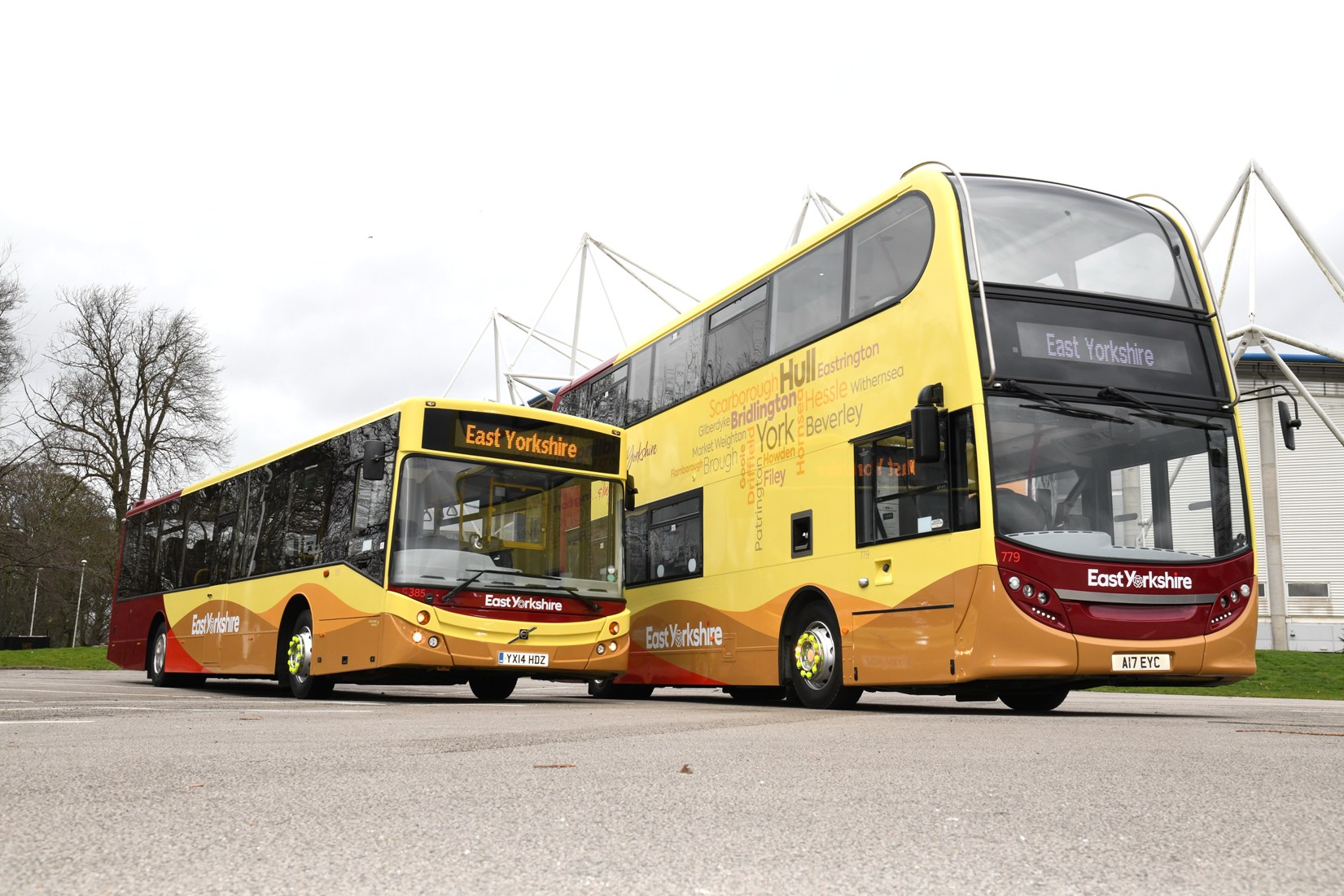 Our Enthusiast Zone will provide information about the fleet of vehicles at East Yorkshire, including a comprehensive fleet list and depot allocation.
Our enthusiasts webpage is in development with more information being added when it becomes available.
You can also follow us on Twitter: @EYEnthusiasts and Facebook.
Fleet News
November 2021
Volvo B7 345 has been loaned temporarily to the training fleet.
Volvo B7s 367 and 368 have transferred to Go North East and have been renumbered 5509 and 5510.
June 2021
Enviro 300 fleet 274 (YX56 DZM) has been converted into a vaccination bus and renumbered 8274.
May 2021
Double deck coach 96 A1 EYD (ex 171-D-25062 and KD17TAU) as arrived from Ensign Bus.
April 2021
Volvo B7s 343 (YX56 FHL) and 344 (YX56 FHM) have been converted to the Training fleet and renumbered 9343 and 9344.
Volvo B7s 369 to 371 have transferred to Go North East and have been renumbered to 5501-5504.
The remaining two Enviro 200s have arrived - fleet 284 and 287.
Four Volvo B9s have been transferred from Go North East. They are fleet 794 (BG15 RNF - ex fleet 6118), 795 (BG15 RNJ - ex fleet 6119), 796 (BG15 RNN - ex fleet 6120) and 797 (BG15 RNO - ex fleet 6121).
March 2021
Coach 87 (YY63 OJD) has been sold to Ensign Bus
Coaches 81 to 86 have had their registrations changed (see Current Fleet List for details)
Three of five Enviro 200s have arrived from Ensign Bus. They are) YX09 FLD (fleet 285), YX11 CNN (fleet 286), and SK15 HBB (fleet 288). We are just waiting delivery of LJ09 KPN (fleet 284) and YX11 HNT (fleet 287).
A Potted History of East Yorkshire
In December 1919 Ernest John Lee started running a bus service between Elloughton and Hull. The livery he chose for his bus company was indigo and primrose. In early 1922 R. Beaulah was taken into partnership to offer financial assistance, and the company consequently changed its name to Lee & Beaulah. Shortly after this, in September 1924, Mr H. A. Harvey set up Hull & District Motor Services Ltd. On the 5th October 1926 East Yorkshire Motor Services Limited was registered by the British Automobile Traction Co. Ltd. to take over the businesses of Lee & Beaulah and Hull & District Motor Services Ltd. It started with a fleet of 34 buses and retained the indigo and primrose livery of Lee & Beaulah. The premises consisted of a depot at Elloughton (on the site still occupied by EYMS today) and Anlaby Common, and a bus station at Withernsea. On the 8th October 1926 the first directors' meeting was held, and at this meeting it was decided to buy a plot of land on Anlaby Road in Hull, with a view to constructing a new depot. This land was occupied by the large mansion house called Marlborough House. It took over two years to complete the project, and in May 1929 the new depot was opened, replacing the previous depot on Lister Street.
During the early years of EYMS many local bus operators were purchased, resulting in the fleet totalling 145 by 1933. The next few years saw a period of stability for the company, which would all change with the outbreak of war. During the war almost all of EYMS's buses retained their original livery, unlike many other operators who had theirs painted grey or khaki. Thankfully very few vehicles were damaged, due to the drivers taking them home at night and removing them from the worst of the bombing in the city. In 1948 the staff moved into the new offices on Anlaby Road, next to the bus depot. During 1950 EYMS experimented with its livery, painting 402 in a medium blue and cream colour, and 509 in a purple and primrose colour. Neither livery was liked resulting in them both being painted back. On the 31st December 1954 Ernest John Lee retired from EYMS. He was the last of the original board members.
The next big change came on the 1st January 1969 when EYMS became part of the National Bus Company. Not long after saw the introduction of decimalisation, resulting in the purchase of 260 Mk II Setright machines for the company. By 1972 EYMS was to adopt one of NBC's standard liveries. They chose the blue and white livery, being closest to their original livery. By 1974 NBC had withdrawn its blue and white livery, forcing EYMS to choose between poppy red and white, or green and white. It chose poppy red and white. The original livery became extinct in 1976 when fleet 870 (RAT 870G) was repainted. In the final year before deregulation the fleet of EYMS totalled 176, only a small growth from 1933. Just prior to deregulation, in September 1986, the Pickering and Scarborough depots of United Automobile Service were transferred to EYMS, and on the 3rd February 1987 EYMS once more became a private company through a management buyout from the NBC.
In October 1989 EYMS adopted red and Portland grey as their standard livery, and by 1991 the total group fleet was 330 vehicles. The early 90s saw another period of expansion for EYMS, with many local operators being purchased, and a spell of local competition saw some unusual vehicles in use, most notably the Routemaster buses on the 56 service. These Routemasters were later to be used on the Scarborough open-top services and for historical hire. Some of the local operators acquired during this period were Rhodes Coaches, Thornton Dale Coaches, Metro Coaches, Connor and Graham, Hedon Silverwing and Kingstonian Travel. In early 1992 EYMS purchased Finglands Coaches of Manchester to expand further afield. 1992 also saw the introduction of an additional depot in Hull, on Hedon Road. From 1995 the livery of the company changed to burgundy and cream and this was adopted in 1996.
The 90s also saw the expansion of the coaching business with East Yorkshire Travel acquiring the businesses of Teeside Coach Travel and Charterplan of Manchester. To further consolidate the coaching business in January 1997 East Yorkshire Travel became National Holidays. In October 1997 the two remaining members of the 1987 buyout team agreed to go their separate ways, meaning that EYMS and National Holidays became separate companies once more. This left the EYMS company in sole ownership, creating the largest independent family-run bus company at one time. This wasn't to be the end of the coaching business at EYMS as a small fleet of coaches was bolstered by the takeover of the Frodingham Coaches business in 2002.
The 2000s saw more expansion, then consolidation, then contraction with the main takeover being that of Whittle Coach and Bus Limited of Kidderminster in April 2004. Closer to home the Veolia Hull depot and bus business was purchased in 2009. Competition in Manchester saw the Finglands company struggle. This led to the sale of the Finglands coaching business to Bullock's Coaches in October 2013. Then, in March 2014, the Finglands Coachways local bus operations were sold to First Group (who subsequently sold it to the Go-Ahead Group to create Go North West). The business of Whittle Coach and bus was the next one to struggle, with the eventual sale to Johnsons Coaches in February 2015. EYMS was back to being a local family-run business running around 330 buses. However, nothing can stay the same and so the future of East Yorkshire was assured with the takeover by the Go-Ahead Group. This saw a new identity, new livery introduced mixing tradition with a modern style, investment in a new ticketing system and new state of the art buses.