Coaster is back for the summer
1 year ago Thu 1st Apr 2021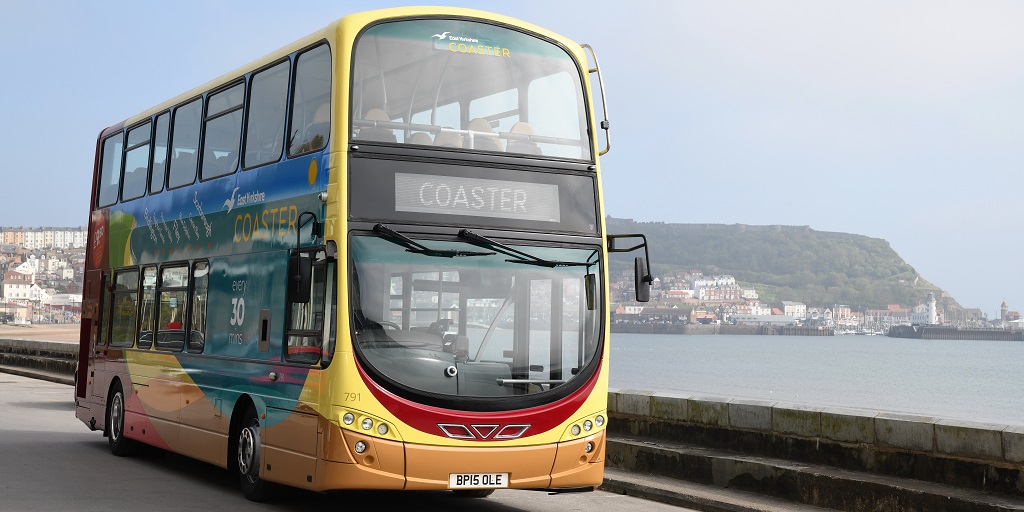 Our Coaster buses are back for the summer from 12 April, ready to take you on a seaside trip.
Our Coaster buses call at:
Bridlington
Reighton Sands
Blue Dophin
Filey
Primrose Valley
Flower of May
Crow's Nest
Cayton Bay
Scarborough
There are up to three buses an hour during the day, every day, with buses running until around 10pm.
You'll still get a VIP experience on our Coaster buses, with:
Free Wi-Fi.
USB chargers.
Next-stop announcements.
Special comfy seats.
Luxury interiors.
Contactless payments.
See our Coaster summer timetable and pick the date you want to travel.
Travelling is easy, with our Coaster tickets giving you unlimited travel all day between Bridlington, Filey and Scarborough, plus travel on our Scarborough and Bridlington Beachcomber open toppers, and our Scarborough and Bridlington town buses. Buy a Coaster ticket from the bus driver, or from the East Yorkshire Buses app. If you're travelling on a shorter journey, single and return tickets are also available. For commuters, check out our weekly tickets, which could save you loads.
Coaster ticket prices for the 2021 summer season are:
Coaster Day - £10
Coaster 7 Day - £39
Coaster 7 Day Family - £53 (2 adults, 2 children)
Coaster 30 Day - £116 (app only)
And one child travels free with every Coaster ticket holder!
We'll be holding the 30 day subscription price at £110, so if you're a regular traveller, save money by subscribing to a Coaster ticket. If you subscribe to a ticket, you'll get it automatically renewed every 30 days, so you never have to worry about getting on the bus and finding you don't have a ticket. Find out how to sign up to bus subscriptions.
Coaster is perfect for those staying at Primrose Valley holiday village, Blue Dolphin holiday village, Reighton Sands holiday village, Cayton Bay holiday village, Crow's Nest holiday village and Flower of May holiday village.
If you're going to Malton or Flamingoland, change to a Coastliner bus near Scarborough Station (change in Malton for the easy Flamingoland connection) - buy an add-on ticket to your Coaster ticket, just ask the bus driver when you board.
Travel safely by following this simple, common-sense advice:
Plan your journey in advance, and aim to travel at quiet times if possible
Wash or sanitise your hands before and after your journey - we have hand sanitiser dispensers on all our buses
Pay by contactless or buy an app ticket if you can (although we do still accept cash if you don't have a contactless card)
Wear a face covering throughout the journey, unless you have a medical exemption
If you have any coronarvirus symptoms, however mild, please stay at home and don't travel