Chatty Bus in lockdown
3 months ago Fri 15th Jan 2021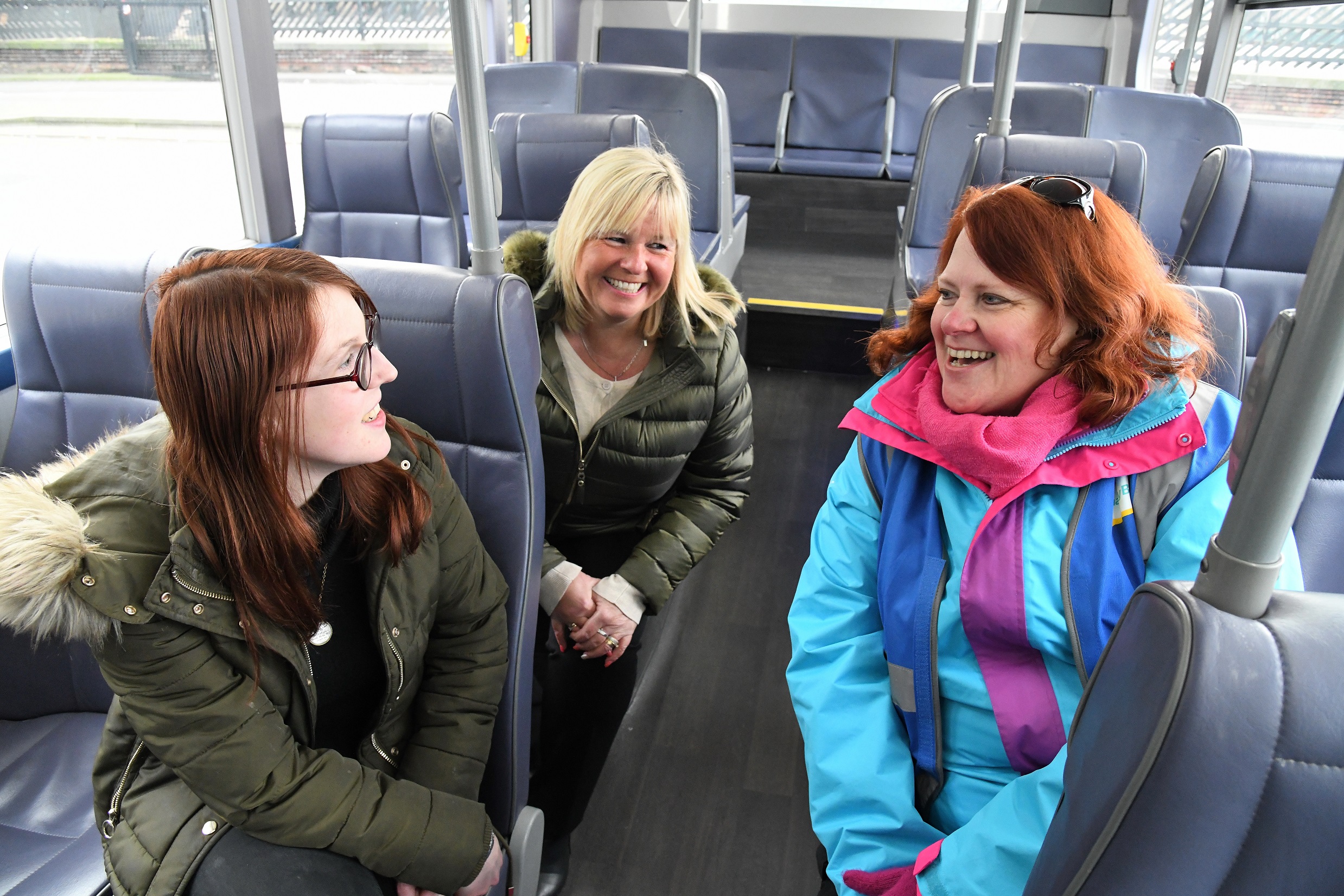 This time last year, we were continuing our efforts in the fight against loneliness and social isolation by holding a Chatty Bus day, a project encouraging passengers to talk to someone new on the bus.
Obviously, this year we can't do that, and yet the problem of loneliness is worse than ever during lockdown.
Even before the pandemic:
Two in three people admitted to feeling lonely.
Three in ten people could go at least one day a week without speaking to anyone close to them.
One in three people deliberately caught buses to have some human contact.
On so-called "Blue Monday" in 2020 – which is labelled the most depressing day of the year – we sent out 50 chatty bus ambassadors on the buses to chat to people, distribute 'happy to chat' badges, and raise awareness of the problems of loneliness.
This year, for obvious reasons, we can't do that, but we still wanted to provide some resources that can help you if you or someone you know is suffering from loneliness or social isolation. We've focused on telephone and internet support, which you can still access during lockdown.
Suffering from loneliness, or want to help someone who is? Here are some places who can help.
Befriending from Age UK Hull
Age UK Hull has a telephone befriending service which aims to reduce loneliness for people aged 50 and over by providing a regular telephone call at a time which is convenient for the person. The call gives people the chance to enjoy a general conversation on subjects that interest them, and are made by Age UK Hull by Telephone Befriending Volunteers. It's open to people who live in Hull and the East Riding.
If you're 50 and over and lonely, you can refer yourself to this service by calling 01482 324644 and asking for Lydia or Libby. If you're the carer for someone who you think would benefit from the service you can also call to refer them on the same number.
Age UK Hull tell us they are also always looking for more volunteers, especially once lockdown ends and they're able to start up their events again, so if you'd be interested in volunteering please ring 01482 324644.
Befriending from Age UK Scarborough
Isolation for the older generation is a critical issue at the best of times, and lockdown can make this worse. If you or someone you know in the Scarborough area is feeling at risk of isolation, contact the Age UK Scarborough team on 01723 379058 and they will work to find a volunteer to pair you up with so you can start telephone socialising.
There's also help with deliveries, a book service and a jigsaw swap. Find out more on the Age UK Scarborough page.
Help your mental health with MIND
MIND has a great page of resources about supporting your mental health through lockdown.
Hull: Hull Helpline
Hull Helpline is support for residents who are vulnerable and need support. It's set up for those who may have no other means of support and may need help to access essential items and services including food, health and wellbeing and financial advice. You can ring Monday-Saturday 8am-6pm on 01482 300 307, or use the online form.
East Riding: Community Support Hub
Not everyone has a network of family, friends, neighbours or carers to call upon, so the East Riding Community Hub is here to help tackle a range of issues you or somebody you know might be experiencing due to the COVID-19 social isolation measures.
Beverley: Beverley Mutal Aid
If you are self-isolating, Beverley Mutual Aid has a group of volunteers helping, protecting and providing for their neighbours beyond and during the COVID-19 pandemic. They can help with picking up and delivering shopping, fetching prescriptions, walking dogs, and telephone chats to help people who are self-isolating and lonely.
Driffield: Helping Driffield
Helping Driffield is a volunteer group set up to help the vulnerable in the community during the COVID-19 pandemic. Call 01377 258291 between 7.30am and 9.30pm. Volunteers are also welcome.
Howden: Howden Helpers
Howden Helpers is a group of volunteers focusing its efforts on support those in Howden and the supporting villages who may need help during the coronavirus crisis.
Hornsea: Welcome Centre
The Welcome Centre in Hornsea has a variety of free Zoom-based events, including chatting and exercise.
Scarborough: Scarborough COVID-19 Mutual Aid
The Scarborough Mutual Aid Facebook page can help you connect with local people and support services.
Withernsea: Withernsea Mutual Aid
The Withernsea Mutual Aid Facebook page has some links to local online quizzes which can help you connect to other local people.
For Anyone
If speaking to someone in person feels scary, try an online peer support group such as Elefriends.
Volunteering
Nearly all of the groups above can only carry out their great work through the help of volunteers. Volunteering is a great way to meet new people and make friends, whilst helping out others. Many groups are crying out for volunteers to do things such as telephone befriending or picking up shopping, so this could be a great way to break out of the loneliness cycle.
Going through some tough times, or find that things are getting to you and you're struggling to cope? Call the Samaritans free at any time from any phone on 116 123. They're available 365 days a year, 24 hours a day. Find out more on the Samaritans website.